On 3 March 2023, the School of Business Studies and Humanities (BuSH) at NM-AIST held the 2023 Business Plan Competition on behalf of the institution. The competition had the theme "The role of Multidisciplinary Research in the Commercialization of Science, Engineering, Technology and Innovation (SETI) for Sustainable development in Africa." Students from the four NM-AIST schools participated in the competition and the 2nd and 3rd winning groups comprise EMoS students. The 2023 BPC marks the tenth anniversary since its commencement in the year 2013. The competition so far has served more than 100 students and some of their startups have been turned into business ventures.
From the EMoS program, students Jacinta Babu, Innocent Kitauka and Nguse Ngulumbi were members of the 2nd winning team and their project "Bio Aninal Feeds", while Jospeh Wangere belonged to the 3rd winning team and their contribution "Turning Waste Into Wealth-BSF-ENVCARE". Winner of the first prize and awarded TZS 3,000,000 was the project "AHCK Nanophotonoics" by students from three different schools at NM-AIST. As a reward, they will also be visiting Washington State University (WSU) in June 2023 for a one-week training under WESKA scholarship.
BIO ANIMAL FEEDS
The business idea was about the Black Soldier Fly (BSF) farming which has potential for sustainable agriculture and animal feeds productions. The black soldier when matured has all nutrients needed with 50% protein hence serving as an affordable but great alternative protein source. Hence, the project harnesses the protein source while the BSF feeds on organic waste. This idea came as a solution to the problem of increasing cost of protein sources and increasing wastes available. The competitive advantage being on the affordable pricing and quality BSF produced. The products are: Dried BSF larvae and Bio Frass (fertilizer).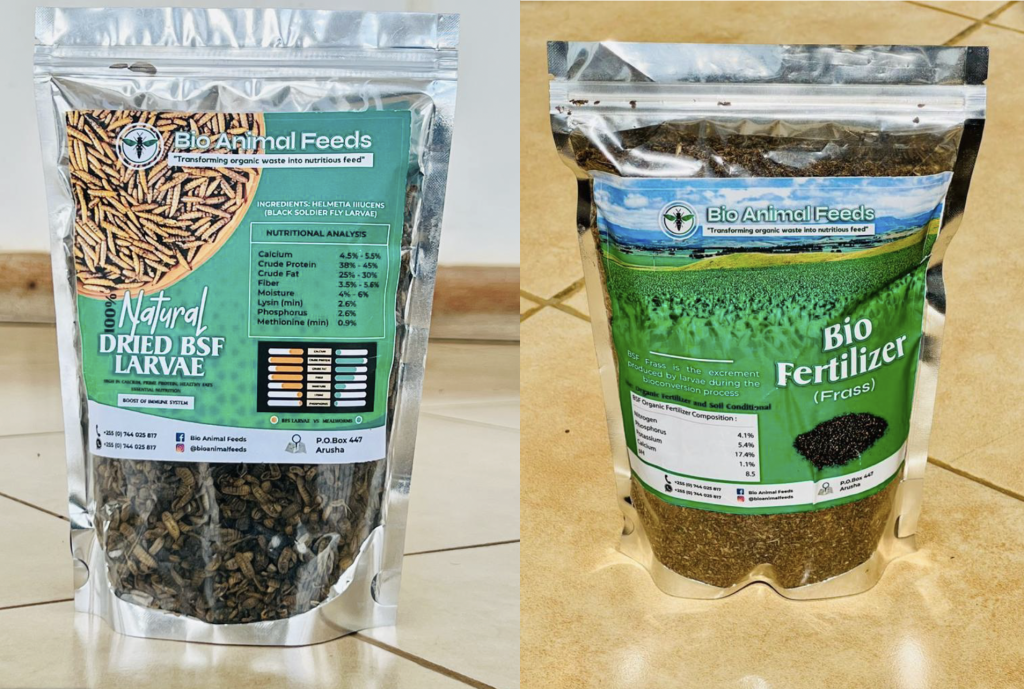 TURNING WASTE INTO WEALTH-BSF-ENVCARE
BSF-ENVCARE is a start-up whose core business entails management of solid organic waste and its transformation into value-added products. This transformation of organic waste into useful compounds is done using the larvae of an insect called black-soldier fly. This larva is used to decompose the organic waste since it is cheap and environmentally friendly. The end products after this decomposition are protein-rich animal feeds for fish and poultry as well as organic fertilizer, both of which are sold to farmers. An Internet of Things sub-module is integrated with this technology to monitor the temperature and moisture content of the decomposing organic waste in real-time. These two parameters are critical and should always be kept at specific thresholds for optimal yield. Real-time monitoring is done from a custom mobile application integrated with alerts and notifications.
The third place winners received 1.000.000,00 Tanzanian Shillings (around 400 EUR) and the second winners 2.000.000,00 TZS (around 800 EUR). The 1st place winners got TZS 3.000.000.00 (around 1.200,00 EUR) and will be visiting Washington State University in the US in June 2023 for a one-week training under a WSU Entrepreneurship Skills and Knowledge Accelerator (WESKA) Scholarship.